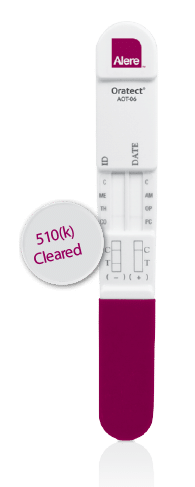 Features & Benefits:
510(k) Cleared
Rapidly screen up to 6 illicit drugs and prescription drugs:

Amphetamine (AM) d-Amphetamine 50 ng/mL
Cocaine (CO) Cocaine 20 ng/mL
Marijuana (TH) Δ-9-Tetrahydrocannabinol 40 ng/mL
Methamphetamine (ME) d-Methamphetamine 50 ng/mL
Opiate (OP) Morphine 40 ng/mL
Phencyclidine (PC) Phencyclidine 10 ng/mL

Simple procedure: collect and test in one step—results in five minutes
Convenient and non-invasive rapid screening
Avoids cross gender observation
Reduces sample adulteration or contamination
Includes transport tube for confirmation testing
The Most Convenient Drug Testing Available
Saliva drug testing is the least invasive method of choice – especially for legal, employment, or workplace screening as well as home or school testing.
Non-invasive – No blood extractions. No privacy issues from having to collect urine samples.
Convenient – Oral fluids are much easier to collect compared to urine or blood and results and are obtained on the spot.
Tamper proof – Far less likely to be tampered with or substituted because the process of specimen collection can be done in full view.
State of the art testing – Better indicator of current or recent drug use – drugs in oral fluids are easily detectable much sooner after use compared to sweat, urine, or blood.
Product must be kept in its sealed pouch and stored at room temperature between 59-86°F (15-30°C). Includes a comprehensive product info sheet and instructions for use.