Secure Continuous Remote Alcohol Monitoring (SCRAMx) in Pinellas County

For high-risk, hardcore DUI and alcohol offenders.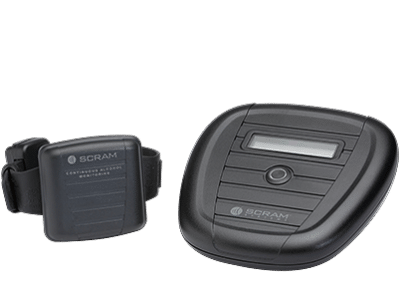 The SCRAMx® (Secure Continuous Remote Alcohol Monitor) — commonly known as SCRAM — ankle bracelet is a tool that helps courts and agencies continuously monitor their alcohol offenders to ensure they're not drinking. Because SCRAMx continuously monitors offenders – as often as every half-hour around-the-clock – it is a much more effective and reliable alternative to random testing methods or incarceration.
SCRAMx is more than a continuous alcohol monitoring (CAM) product – it is a complete program that provides significant benefits to courts, probation, and other supervising entities – as well as to the offenders themselves.
SCRAMx combines continuous alcohol monitoring (CAM) with house arrest technology in one court-validated device:
Standalone alcohol monitoring or CAM with home curfew monitoring at the flip of a switch
Eliminates testing gaps—no ability to miss a test or drink around testing schedules
Goes where the client goes—no transportation to a testing center
Studies show CAM is most effective for offenders assessed with alcohol dependence or addiction
Works well in conjunction with treatment to enforce compliance and better identify when intervention may be needed