Drinking on the job can contribute to lost productivity & revenue, as well as possible governmental agency sanctions, criminal charges, fines, and devastating lawsuits.
An affordable and effective method for fleet owners and managers.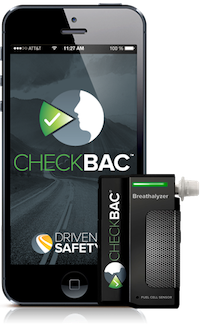 CheckBAC™ combines industry-accurate Bluetooth® technology, a simple, easy-to-use smartphone app and an easy-to-use management platform. CheckBAC gives you the power to test and monitor individuals – anywhere, anytime – and instantly see their results. And it costs up to 80% less than other systems.
CheckBAC is great for:
Truck fleet owners
Public transportation agencies
Taxi companies
Courier/Delivery companies
Heavy equipment & vehicle rentals
Warehouses
Manufacturers
Benefits of a breathalyzer for intoxication monitoring
Using your employee's cellphone with an easy to use app, you can now monitor the sobriety of your employees or rental clients to reduce your risks.
Accurate & affordable, the CheckBAC system gives real time video results as well as the location of the individual being tested no matter where they are.
Order testing randomly or on a fixed schedule to assure an employee's sobriety when they report for work as well as throughout their shift.
If a driver making a delivery were involved in an accident, they could immediately provide a test to prove that they was not under the influence of alcohol.

Included language in your rental agreements that the client renting a vehicle or heavy equipment agrees to monitoring along with a hold harmless clause if they fail to properly test.
Convenient and reliable alcohol monitoring with facial recognition technology. Real-time results ensure safer driving time and provide peace of mind.