There are countless ways to celebrate International Women's Day, but what is most important is breaking the bias. Learn about the discrimination against women and how you can help. Find out how to celebrate and contribute to a more equal world.
Recognize the outstanding women in your life
This Women's History Month, take a moment to acknowledge the incredible women in your life. There are countless things we can say about the women in our lives, but for now, let's start with gratitude. Thank them for all they do for you and tell them how much you appreciate them. Whatever the relationship, writing a text message, meeting for coffee, or a quick phone call might make all the difference.
Support on Social Media
One of the most appealing features of social media is its accessibility to knowledge and increased awareness of societal concerns. It is also one of the most important tools for social change. Social media platforms give a voice to unheard individuals and communities, raising awareness about various issues. This increased transparency has led to social movements and revolutions. You can do your part by sharing resources using the hashtag #BreakTheBias.
Buy from female-owned businesses whenever possible
When it comes to spending our money, most of us try to be mindful of where we put our dollars. One way to help support women in business is to consciously choose to spend your money at women-owned businesses. This can be as simple as picking up your morning coffee, buying some bread from the bakery, or getting a new tattoo. So next time you're out and about, take a minute to see if the business you're considering spending your money with is owned and operated by a woman.
Learn as much as you can
Educate yourself about incredible women from history, read articles and participate in online resources to gain a deeper understanding of the challenges women face today.
Emmeline Pankhurst fought for women's voting rights
Hypatia was a mathematician and philosopher in the 4th century
Queen Njinga of Ndongo and Matamba was a strong leader who challenged the Portuguese conquest of Angola
Rosalind Franklin was a chemist and X-ray crystallographer who contributed to the discovery of the structure of DNA
Each of these women fought for different rights and overcame different challenges. There are several online resources, panel discussions, and other events where you may get more information about issues that women face and what we can do to solve them.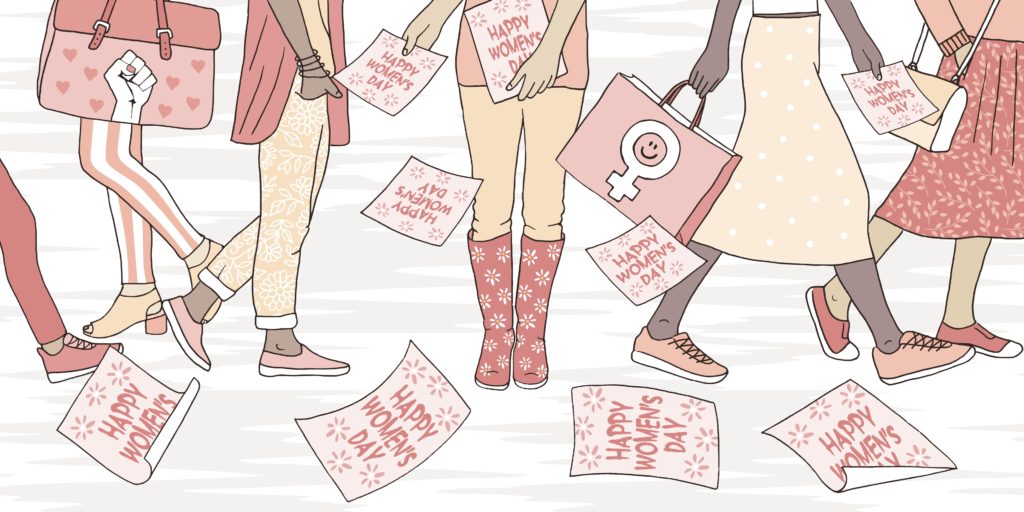 It's not only for women
Gender bias has infiltrated all of our minds. It's up to everyone, not just women, to champion the importance of equality. Here are three reasons why:
• Discrimination happens when we don't include everyone in the conversation about gender equality. This includes individuals beyond the gender binary.
• Expanding the conversation to everyone leads to critical thinking around these issues in all communities.
• It's important that we all work together to achieve gender equality. It's a goal that benefits everyone.
Be an advocate in the office
Are you an advocate for change in your office? It can be as simple as listening to women in meetings more, or as extreme as staging a full-on protest. Here are some tips on how to start:
1. Make a conscious effort to be an ally.
This means being conscious of your own privilege and using it to support marginalized people in your workplace. There are many ways to involve yourself to be an ally, and it doesn't have to be something that takes up a lot of your time. You could attend protests, sign petitions, or create a policy change proposal.
2. Educate yourself.
It's important to be aware of the issues that marginalized people face in the workplace. This includes things like the wage gap, the lack of diversity in leadership positions, and sexual harassment.
3. Speak up.
If you see something that isn't right, say something. This could be anything from calling out a sexist joke to speaking out against a discriminatory policy.
4. Listen to marginalized people.
Marginalized people are the experts on their own experiences, listen to them.
Change can feel daunting, but by following these tips, you can become an advocate for change. And who knows, maybe you'll inspire others to do the same.