Tailgating, viewing parties, and cookouts are some of our favorite activities during football season, but they are also times when certain individuals are more inclined to overindulge. Some individuals will experience negative consequences ranging from fights to injuries to traffic accidents as a result of alcohol abuse. So this football season, don't underestimate the impact of alcohol.
There are many myths about alcohol that still circulate today.
Despite the perils, urban legends about drinking persist, which—for some people—can be deadly. Every year, an estimated 95,000 individuals (about 68,000 men and 27,000 women) die due to alcohol-related causes in the United States. Scientific studies backed by the National Institute on Alcohol Abuse and Alcoholism give important information that contradicts popular, yet incorrect, views about how quickly alcohol affects the body and how long its effects last.
Before You Know It, Alcohol Has Effects!
People often don't realize that when they drink alcohol, their decision-making abilities and driving skills are already diminished. At first, alcohol may seem like a stimulant since people who drink feel more upbeat and excited. However, this false sense of security can quickly lead to problems as judged is decreased and inhibitions are lowered.
Reckless decisions are often made under the influence of alcohol which can produce tragic consequences.
Reaction times slow and behavior becomes out of control when people drink alcohol, which sometimes leads to violence. Slurred speech and loss of balance are common for those who continue drinking. Alcohol can also cause blackouts—which are gaps in a person's memory while they are intoxicated. These can be partial or complete. During a blackout, people may appear to be awake and able to function, but they will not remember what happened later.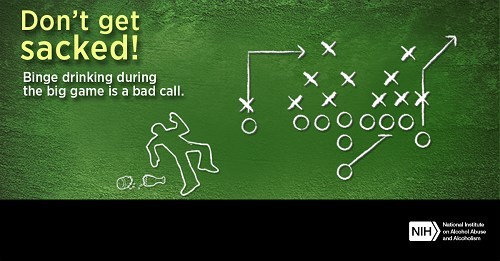 The Impact of Alcohol Lasts Even After You Put the Bottle Down.
It's difficult to judge how long alcohol's influence lasts over the course of a football game. Many individuals believe that they will sober up and be able to drive safely once they quit drinking and have a cup of coffee, for example. The fact is that alcohol has long-term consequences on the brain and body even after the last drink has been consumed. Even after someone stops drinking, booze in the stomach and intestines continues to flow into the circulation, resulting in poor judgment and coordination for hours.
Before You Celebrate, Make a Plan.
Before you start drinking, it's important to have a solid plan in place for how you'll get home safely. Designate a driver who won't be drinking, and make sure you have money set aside for a taxi or ride-sharing service. If you're going to be drinking, it's best to avoid driving altogether. However, certain facts are evident—no method to make sound judgments when intoxicated, and there is no technique to sober up faster.
Here are some pointers for organizing a football viewing party:
In order to help your guests stay hydrated and safe, offer a range of non-alcoholic drinks like water, juices, and sparkling sodas. Alcohol can cause dehydration, so having these other options available will help reduce the negative effects of alcohol. Additionally, since drinking fluids can slow down the rate that alcohol is absorbed into the body, it may also reduce drunk driving accidents.
Serve a wide range of hearty meals and snacks. Food can reduce alcohol absorption and peak level of alcohol in the body by about one-third. Food may also help to lessen stomach irritation and sickness the next day.
Use designated drivers and taxis to help your guests get home safely. Anyone who drives a car should not have consumed any alcohol.
Understand the underage drinking laws as a parent—and set a good example.
It's important to be aware of the dangers of alcohol, especially when it comes to football games and other events where people may drink excessively. Too often, people make reckless decisions under the influence of alcohol that can have tragic consequences. Before you celebrate with a few cold ones, be sure to have a solid plan in place for how you'll get home safely. That way, everyone can enjoy the game without having to worry about getting behind the wheel after drinking. Let's have a great season!