The Iceberg of Domestic Violence
One of the most dangerous and insidious truths about domestic violence is that it is easy to ignore if it is not visible. Similar to an iceberg, there is a lot more than what is visible above the surface, and that's true for individuals, communities, and cultures. In the depiction below, NCADV has listed outward acts that society doesn't accept, where survivors are supported, and the offenders are held accountable. The question is, why don't we do the same with acts found below the water's surface?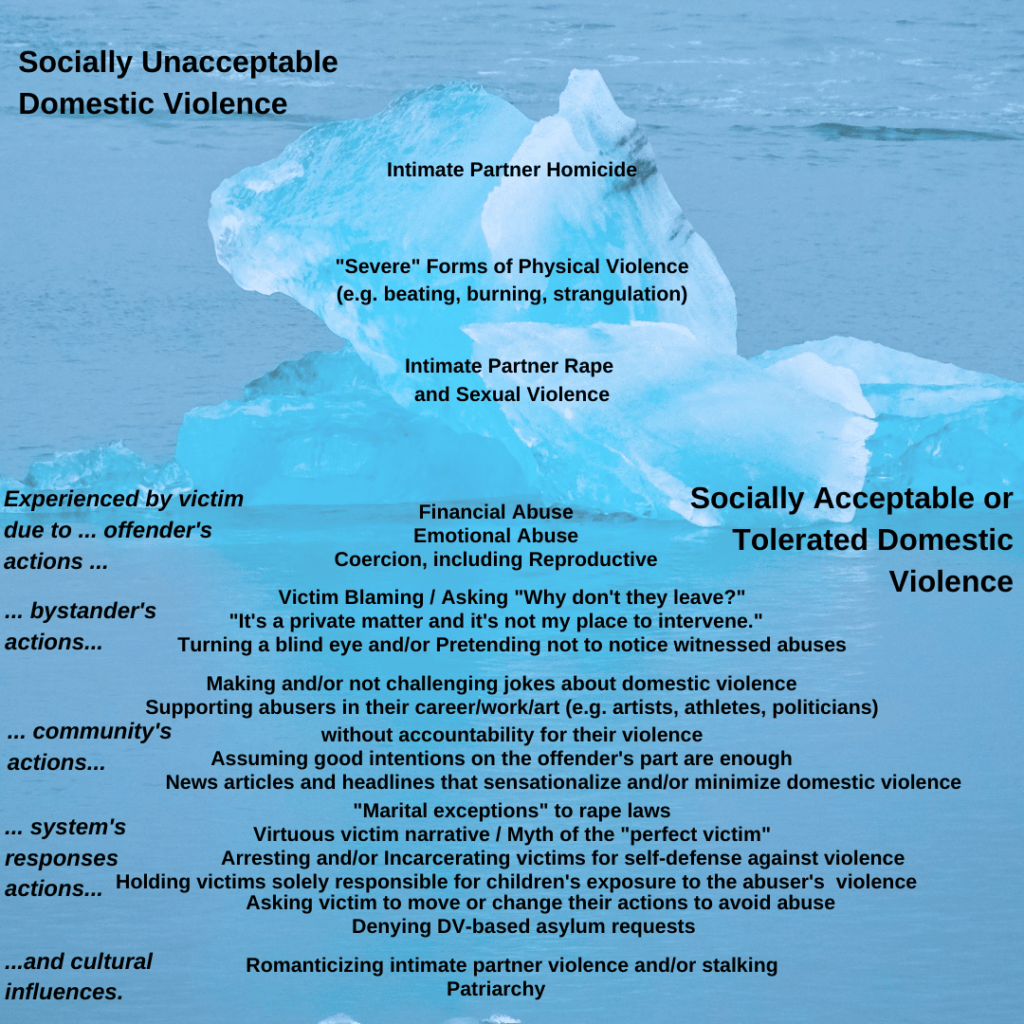 How to Support Survivors of Domestic Violence
Supporting survivors of domestic violence is critical. Here are some ways to do it:
Believe survivors when they disclose their experiences.
Respect survivors' decisions about whether, when, and how to talk about their experiences.
Offer practical and emotional support, but do not pressure survivors to take any particular course of action.
Refer survivors to local domestic violence shelters and programs, or national hotlines like the National Domestic Violence Hotline (800-799-7233).
Encourage survivors to develop a support system of friends, family, or other trusted individuals.
Educate yourself and others about the issue of domestic violence.
Domestic Violence in Florida: Shocking Statistics
• Over one-third of women and nearly one-third of men in Florida experience intimate partner dating violence, sexual violence, or stalking.
• In 2019, more than 105,000 domestic violence incidents were reported to the police, and 221 Floridians were killed in domestic violence incidents.
• Domestic violence shelters and programs in Florida served 3,005 adults and children in one day in 2019, and many more were unable to access services due to a lack of resources.
• Nearly three-quarters of a million Florida women have experienced stalking by an intimate partner.
BREAKING DOWN THE STIGMA OF DOMESTIC VIOLENCE
It's Not Just Women: Domestic Violence Affects Men Too
• 1 in 4 men will experience some form of domestic violence in their lifetime, and 1 in 9 men will experience severe intimate partner violence.
• Domestic violence takes various forms, including emotional, financial, sexual, and psychological abuse.
• Children can also be victims of domestic violence, with 1 in 15 exposed to intimate partner violence each year.
It's Not Just Heterosexual Couples: Domestic Violence Affects Everyone
• Domestic violence does not discriminate and can affect individuals of all sexual orientations and genders.
• Intimate partner violence within the LGBTQ community occurs frequently, and there are unique forms of intimate partner violence that members of the LGBTQ community may experience.
• There can be distinctive barriers to seeking help for this type of abuse due to a fear of discrimination or bias against them.
JOIN THE FIGHT AGAINST DOMESTIC VIOLENCE
 Local domestic violence shelters and programs
CASA
24-Hour Domestic Violence Hotline
(727) 895-4912 | TTY: (727) 828-1269
Religious Community Services
Abuse Services
Outreach:
Monday – Friday
8:00am – 6:00pm
Outreach Phone: (727) 441-2029
HOTLINE (727) 442-4128TTY (727) 446-2448
or FL State Hotline 1 (800) 500-1119
Ways to Help Fight Domestic Violence
Lobbying for Domestic Victims and Survivors
Other helpful links: